Tea from India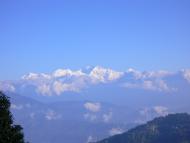 Darjeeling tea is picked by hand and processed with great care. It is checked with the greatest care as it must comply with the strictest quality criteria. In order to distinguish between the different qualities, teas are sorted into leaf grades and within those grades into different batches or 'invoices', which are then offered to traders and brokers in Kolkata and London.
The intemperate hot and humid plains of the Bramaputra valley are home to the world's largest contiguous tea growing area. The province of Assam lies 250 km east of Darjeeling and borders on China and Bangladesh. Assam has a lot of rain fall, and temperatures that can reach 40°C or more. In this extreme climate, the workers can pick up to 50,000 'shoots' in an 8-hour-day, whilst watching out for snakes or poisonous insects. Roughly 600 tea gardens produce approximately 350,000 tons of tea per year, which is about 60% of India's total tea production. (Darjeeling produces a maximum of 20,000 tons per year.)
Nilgiri, Sikkim, Dooars, Meghalaya and Terai-producing area
The famous Blue Mountains in southern India have been the most important tea-growing area since 1840. The Nilgiri tea gardens are rather small in comparison to the plantations in Assam. However, almost 25% of India's total annual harvest is produced on these 80,000 hectares of land at an altitude of 800 – 2,000 m.a.s.l. These teas are full-bodied and are distinguished by their tart, slightly citrus-like taste, which is reminiscent of Ceylon highgrowns.