Japanese Teapots
The beauty, elegance and functionality of these teapots is particularly popular amongst tea lovers and, like ceramics from Yixing, they are much sought after by collectors.
Tokoname has preserved its ancient traditions of making pottery. Many skills have been perfected and continue to be developed by resident artists.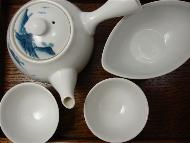 Echizen, Bizen, Seto, Tanba, Shigaraki and Tokoname are the six oldest pottery-producing towns in Japan.